Barcelona!
The Mediterranean City!

Gothic, Design, Art Deco & Expensive!

By Freddy Santamaria

Barcelona is the city of

all colors, with constant renovation and changes, with more of two thousand years of history, a fusion of ancient and "avant-garde," old monuments and new design, a city that invites you to re-discover its heart every time you will visit.

I travel around the world, from Paris to London, Shanghai, Beijing, Tokyo and you name it, and compared with those cities, Barcelona is more like a district or neighborhood, but

has all the advantages and none of the drawbacks.

It has the advantages of a small city

, with streets to walk, little shops, bars & small restaurants in every corner and the advantages of a megalopolis with the mix of races, cultures, new trends, new designs, and new buildings that give Barcelona all the colors you could ask for.

At your arrival at Barcelona Airport don't be stingy

, avoid the bus or the train to the city, and "take a taxi." As with Madrid, the Barcelona taxis are going to be the only "non-expensive" thing you will find in the city.

Before I start my "Gourmet Corner Review" with Hotels, Bars and Restaurants, let me give some "non tourist" information.

For tourist information visit:

www.barcelonaturisme.com or www.bcn.es

You will find all the information in English or any other language you are familiar with.

Some steps to Barcelona culture and places you must visit:

1/ Museo de Arte Contemporaneo (MACBA)

# Barcelona's Museum of Contemporary Art

, in the very heart of "The Raval Quarter" [Located on the right hand of "Las Ramblas" heading to the sea, The Raval is a multicultural melting pot and one of the city's most picturesque areas. It is a good place to wander around, though it's always a good idea to take basic safety precautions.]

– 10 years old, built by the architect Richard Meier, it is a symbol of the recovery and gentrifying of The Raval. It is recommended for its temporary exhibitions and its modern, edgy character.

>

www.macba.es

[Plaza dels Angels ─ Tel. +34 934 12 08 10]

2/ Centro de Cultura Contemporanea (CCCB)

# The Centre of Contemporary Culture of Barcelona,

it has been located in the old "Charity House" building since 1994, a splendid example of how classical and modern architecture can be combined. It is also one of the main cultural and artistic centers of the city.

>

www.cccb.org

[Montalegre 5 ─ Tel. +34 933 06 41 00]
3/ Museo Nacional de Arte de Catalunya (MNAC)

# The National Museum of Catalan Art,

opened to the public in 2004, after 18 years of works at the cost of 122 million Euros, is located in the old National Palace, built for the World Exhibition of 1929. It contains one of the largest and most important Romanesque art collections. Inside you will be able to see wall paintings from 10th to 12th century churches.

>

www.mnac.es

[Palau Nacional Parque de Montjuïc ─ Tel. +34 936 22 03 76]

4/ Fundacion Antoni Tapies

# Tapies Foundation,

open in 1990 and placed in an old factory, this is the best place to become acquainted with the work of one of the most important Catalan artists, Antoni Tapies

>

www.fundaciotapies.org

[Aragon 255 ─ Tel. +34 934 87 03 15]

5/ Fundacion Joan Miró

# Joan Miró's Foundation,

is the major legacy of the artist to the city. It was built by his good friend, Joan Sert, and inaugurated in 1975, just after the death of Franco. It has always been an avant-garde emblem. Nowadays, you can visit the museum's collections, donated by the artist, that make up complete Miró retrospective, as well as temporary exhibitions in the modern "Espai 13."

>

www.bcn.fjmiro.es

[Parque de Montjuïc ─ Tel. + 34 934 43 94 70]

6/ Museo Picasso

# Picasso Museum,

inaugurated in 1963. Pablo Ruiz Picasso was deeply in love with Barcelona. Together with his great admirer, secretary and best friend Jauma Sabartés, he gave two of his best collections to the museum, which dedicated to this artistic genius. Because of these works and others donated to the city, are testaments to the apprenticeship of a master, the Picasso Museum of Barcelona offers a great perspective on Picasso's evolution. The collection is placed in a magnificent setting, five palaces from the 14th to the 16th centuries put together. It is a great tour through the work of a genius and a trip to the city's architectural past.

>

www.museupicasso.bcn.es

[Montcada 15-23 ─ Tel. +34 933 19 63 10]

7/ CaixaForum

# CaixaForum

is one of the city's newest art centers, and is located in an old textile factory called "Casaramona." The Hall, was designed by Arata Isozaki is the first in a number of well-conceived mixtures of tradition & modernity. Inside, you can visit the collection of the Caixa Foundation, and also its interesting temporary exhibitions. Particularly recommended the work of Beuyce and Sol LeWitt's colorful wall painting. The building faces the Pavilion "Mies Van der Rohe."

This beautiful piece of architecture was built by the German architect Mies van der Rohe for the 1929 World Exhibition to represent Germany. An example of rationality and functionality; its interior represents a new conception of fluid space -the German flag is represented by the black curtains, the red carpet & the onyx wall.

>

www.caixaforum.com

[Marqués de Comillas 6-8 ─ Tel. + 34 902 22 30 40]

8/ Barcelona and Gaudi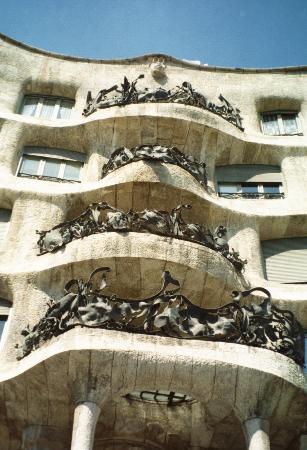 # La Pedrera or Casa Mila,

is one of the must fascinating buildings designated by Antoni Gaudi. With its undulating façade and organic shapes, the Mila residence was built in 1912. At the time it was widely misunderstood and the target of many jokes, which gave it its bad name for posterity ("La Pedrera" - means - "stone quarry"). After all these years it has become a symbol of the Modernist movement.

# L'Espai Gaudi, or The Gaudi Space,

is placed in what was the insulating chamber of the building, it wants to bring the creator nearer to his audience. Through its galleries built in solid brick, you can admire the architectural work he did in and out of Barcelona. The visit ends at the terrace, a walking path around the top of the building (exclusive to Gaudi at the time) that offers great views of Paseo de Gracia and the city. During the summer nights, La Pedrera offers open-air concerts in its terrace with an adjoining bar service.

# The Apartment,

at the top floor of La Pedrera, has been setup so that it can be visited with the same ticket used for the Gaudi Space. It was one of the flats originally rented by the Mila family, and it has been decorated with the original furniture of 1920. Even though most of the Gaudi's furniture has been lost, the flat's interior is a great way to get acquainted with the author and its epoch. It is also a good example of Gaudi's solutions to light and distribution.

[Provenza 261-265 ─ Tel.+34 902 40 09 73]
# Casa Batllo, or Batllo House

, is a 5-minute walk south from La Pedrera along Paseo de Gracia, which takes you to a block of houses that are stylistically different from one to the other. The best known is the Batllo House, another masterpiece of Gaudi. It could be, depending on some interpretations, a metaphor of the Saint George's legend.

That being the case, the roof of the building would be the dead dragon, its tower the hero's lance, and the balconies would imitate the bones of the dragon's victims. The house is open to the public and it's a very interesting visit to understand the work of Gaudi in detail.

[Paseo de Gracia between Arago & Consell de Cent]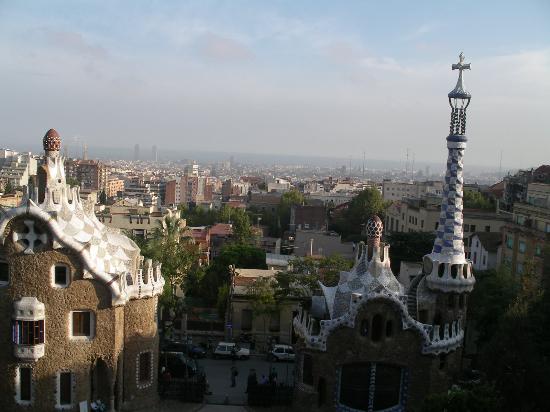 # Parc Güell:

this extraordinary park is one of the best of the Güell family, patrons and promoters of Gaudi. Originally created as the site for the summer residences of the Barcelona bourgeoisie, Gaudi built the public area and then the project was abandoned due to the lack of funds.

There are three houses built, one of them being The

"Gaudi Hause Museum." The entrance to the park is already a passport to his particular world, with the "Watch Tower," a sinuous, long mosaic tower crowned by a spectacular cross, and the "Guardian House" architecture in which Gaudi reminds us of the fairytale of Hansel & Grëtel.
After that, we find the stairs with three fountains, one dedicated to water, the other to the flag, and the last one to the Saint George. They will lead to the portal, with its classic columns and its ceiling inspired by the treasures of the sea. Using broken pieces of teacups and glass, Gaudi built strange and beautiful suns, and even an octopus!

The Portal supports the extraordinary terrace, surrounded by what seems to be the "longest bench in the world."

This bench is decorated with broken dishes, pieces of ceramic and fragments of bottles in a brilliant combination of light a color.

# La Sagrada Familia (The Holy Family Church):

Gaudi's greatest work and was meant to be a new cathedral for a new city. From 1883 he worked on it passionately until his accidental death in 1926.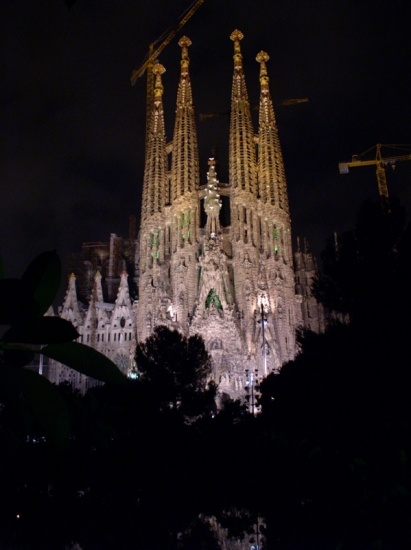 This church, based on nature, is a mysterious and splendid piece of art.

It is currently being completed following Gaudi's model. There are "eight towers," four on each façade, but the final project will have "fifteen," In two of his towers, there are elevators that go all the way up to the highest point of the building.

Visitors can go up also walking, through a never-ending spiral staircase, but it is worth the exercise just for the captivating view of the city

.

"Nativity" is the only façade terminated by Gaudi

. Following the Middle Age tradition, it is meant to be a bible written in stone to be read in images, mixed up with a thousand natural elements.


A Walking Tour of Barcelona

The best way to visit Barcelona

[besides the Barcelona Bus Turistic] is on foot.

One of the most interesting walks will be

the meridian of the "Paseo de Gracia," from Avenida Diagonal to the "Harbor." The walk can take you all day depending of haw much you want to visit.

Starting at the corner of "Diagonal" & "Paseo de Gracia"

you can see the:

"Palau Robert"

(Paseo de Gracia 107) Art Centre & modern garden.

"Museo de la Musica

" (Diagonal Corner of Pau Claris)

> Going down (Left side) Paseo de Gracia N° 96 you can visit:

"Vinçon"

─ The top design shop in Barcelona, opened in 1941, and today's reference on contemporary design (for everything).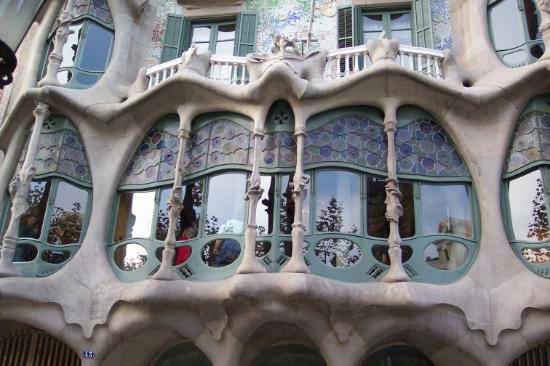 "La Pedrera"

designed by Gaudi (Corner with Provenza)

> On the (Right side) (Corner with Aragó)

"Casa Batllo"

designed by Gaudi


> And if you go (Right side on Aragó)

, you will find on N° 255

"Fundacion Tapies"

> Continue Aragó till next crossing with Rambla de Catalunya N° 63 and you will find:

"Colmado Quilez"

─ the best selection of Spanish food products in Barcelona; olive oil, wines, liquor, cheese, ham, canned foods etc.
> Go back to Paseo de Gracia and continue down, also you can go down on Rambla de Catalunya until you reach Plaça de Catalunya – The "Center" of the city!

On the

left side of the "Plaça" you will find "El Corte Ingles," the biggest "Department Store" in the city.

If you don't want shopping, go to the

right side, and take yourself down to the harbor by way of "Las Ramblas," which may well be the most well known street in the city.

The avenue, with its wide central pavement and its crowds of strolling visitors and

["pickpockets"], is usually full of color, with bars, restaurants, stalls & fortune tellers. It runs from the Plaça Catalunya all the way down to the harbor & the sea.

"Las Ramblas" is divided into different sections: one for

flowers stalls, other with birds stalls, and the last one with cafes & restaurants and "Regional Hand Craft" stalls.

Along the way you must see the

"The Canaletas Fountain." It is situated at the top part of Las Ramblas and "has the power to make all those who dream for it come back to the city." It also is the site for celebrating Barcelona Football Club's victories.

Further down you will find

"The Boqueria Market," one of the city's oldest and most traditional markets. All kind of products can be found here, as it is one of the favorite shopping places for the top Barcelona's "Chefs" and the bourgeoisie.

Not far,

"The Joan Miró Mural," close to the Opera House on the floor of the central pavement, is a piece of art done in ceramics given to the city by the artist himself.

Next to it is

"The Liceu Opera House." This emblematic neoclassical building, Barcelona's Opera House, has been remodeled recently following the fire of 1994, conserving its original monumental appearance.

On the last stroll you will find

"The Columbus Statue," at the sea end of Las Ramblas. An elevator at the foot of the monument takes you up to the sightseeing platform.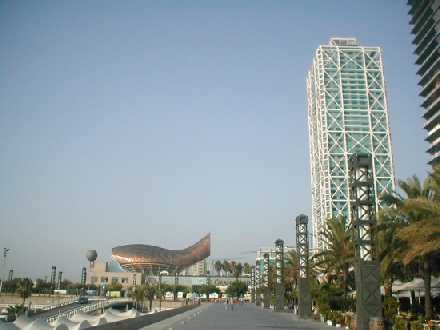 At the harbor in front of the Columbus Statue you can

take a tour of the harbor with "Las Golondrinas" the sightseeing boats with tours of "One Hour" or "Hour & Half" in length for around a max of 9.00 Euros per person.

Or you can continue walking via the wooden bridges "

Ramblas del Mar" around the harbor & marinas, of the "Port Vell" (The Old Harbor) where you can visit the Barcelona Aquarium & the "multi shopping & restaurant" complex with the name of "Maremagnum"

Important Notice: Please be smart and "forget" all tourist bars & restaurants on "Las Ramblas" & the "Marina." They are the "worst tourist traps" you can find!

Only

THREE restaurants are of interest in the area:

―

"Reial Club Maritim" (Royal Yacht Club) (harbor great views)
― Moll d'Espanya
― Tel. +34 93 221 7143
― Closed in August

―

"L'Elx al Moll" (also harbor views) nice terrace, fish restaurant
― Moll d'Espanya (Maremagnum)
― Tel. +34 93 225 8117

―

"Los Caracoles" Open in 1835 -(Off Ramblas)
― Escudillers N° 14
― Tel. +34 93 302 3185

Continue your walk via the

"Moll del Diposit" and of course forget the restaurants, and turn left to the "Plaça del Palau," at the corner with "Passeig d'Isabel II." At N° 14, you will have one of the oldest restaurants in Barcelona, opened in 1836 (Fish & Paellas) …

―

"7 Portes" (an institution in the city)
― Open past midnight
― Reservations recommended
― Tel. +34 93 319 30 35

If you only want to have some

"tapas" for your lunch and visit the "Church of La Mercé" (the Virgin Patron of Barcelona), you can go to "O'Pescador" on Mercé N° 7, (Corner Simo Oller) where you can have some Octopus Galicia style or grilled Xoricho. It is a little bar, non-pretentious, non-expensive, and no tourists!

If the above are of no interest for you, on

Plaça del Palau walk north to "Santa Maria del Mar" (Saint Mary of the Sea) ― Probably the most perfect and purest example of Gothic architecture in the region. Built quickly thanks to the patronage of the sailors union, it was dedicated to protecting them from storms and dangers at sea.

This magnificent building is the center of the:

"Born neighborhood," which belongs to the old city and is one of the most attractive sites in Barcelona with the "Paseo del Born" or (Born's Avenue), that starts up from the chorus of Saint Mary's and is a good testimonial to the colorful life of the "Barrio," full of little stores, restaurants and night bars and discos. It ends into the "Mercado del Born" (Born Market), which offers testimony to the 19th century iron architecture that is being restored.

Going around Santa Maria del Mar church, you will find a small

square "El Fossar de les Moreres" inspired by the Grand Square of Sienna (Italy). Perpendicular to the "Paseo del Born" you will find "Calle Montcada." The street offers a large variety of stores and art galleries.

There you will also find:

The

"Picasso Museum,"
The "Textile Museum,"
The "Pre Columbian Museum,"
and The "Maeght Gallery."

Montcada Street

was the widest street in Barcelona during the Middle Ages, and runs perpendicular to the narrowest street, the "Carrer de les Mosques" or (Fly Street).

Two "Tapas Bars"

worth mentioning in the vicinity:

― "El Xampanyet"
― on Montcada N° 22
― Tel. +34 93 319 7003


>>> Old traditional family tavern.

―

"Euskal Etxea"


― on Placeta Montcada 1-3,
― Tel. +34 93 310 2185

>>>Bar Specialty: "Donostia – Basque Tapas" is located on the Basque Cultural Center.

From

"Santa Maria del Mar," continue by the old typical street, "L'Argenteria": With two restaurants of interest on the street:

"Hofmann"

on N° 74-78,
with "One Michelin Star"
In an old building, also a hostelry school.
― Tel. +34 93 319 5889

and the classical,

"Senyor Parellada" on N° 37,
― Tel. +34 93 310 5094

till the

"Plaça de l'Angel" and you will arrive to the "Barri Gotic" or "Gothic Quarter" with the "Plaça del Rei" or "King's Square," where the old governmental centre of Barcelona was located.

In this little square you will find the former residence of the Catalan Monarch; the City's History Museum, which allows you access to the old Roman City's underground passage and the executioner's home, the smallest (and most hated) house in town.

Near by you will arrive to

"Plaça Sant Jaume," a square with the city's current governmental centre. In this beautiful square you will find the "City Hall" headquarters of the Catalan Government

From the

"City Hall" continue north to "Barcelona's Cathedral." Built between the 13th to 15th centuries (1298―1459), it is placed in the very center of the old downtown, flanked by the remains of the city walls. It was declared a Historical Monument of National Interest in 1929.

In one of the "lateral chapels" on your left, you will find an elevator with a guard, and for a "few Euros" he will take you to the top of the building. It is worth it for the view of the rooftops of the old city and the sea.

From the Cathedral go back to the

"Plaça de Catalunya." It is time you stop walking and return to your hotel, you most be tired!

Or take a taxi to visit the "Agbar Tower."

After this cultural introduction, I hope you like Barcelona! Now let's get to more important matters, such as the:

*********************************

"Barcelona Gourmet Corner

"

Barcelona has many restaurants for choice, the majority of them have

"Lunch Menu" at very interesting prices, if not, the normal prices are expensive. The city has a large number of excellent restaurants, for all tastes and pocket money. Herewith, I will present a short selection of them, by "average price ranking" per person, plus my personal "Gourmet Corner Selection."

― From 30 to 35 Euros

"Can Costa"

― Famous and conventional old restaurant located in front of "Playa de la Barceloneta" (Barcelona Beach), specialty of fish and paellas, very crowded at weekends.

Closed on Wednesday and Sunday evening

— Paseo de Joan de Borbó N° 70
— Tel. + 34 93 221 5903

"L'Oliana"

― Traditional Catalan market kitchen, good wine cellar, cozy atmosphere, inexpensive.

Closed Sunday evening

— Santaló N° 54
— Tel. +34 93 201 0647

"Shunka"

— Very simple traditional Japanese kitchen, full every day for lunch, specialty of "fish carpaccio," sushi & sashimi.

Closed on Monday

— Sagristants N° 5, bajo
— Tel. +34 93 412 4941

" I Buoni Amici"

— Traditional Italian Kitchen,, inexpensive with good pasta & "tiramisu."

Closed Sunday evening

— Casanova N° 193
— Tel. +34 93 439 6816

― From 35 to 45 Euros

"Cal Pep"

— Typical restaurant and extensive "tapas bar," very popular, always crowded for lunch.

Closed Sunday, Monday lunch

— Plaça de les Olles N° 8
— Tel. +34 93 310 7961

"La Mifanera"

— Specialty in "12 rice dishes" from around the world, changing with the seasons. To mention: "arroz rustico" and the "rabbit rice."

Closed Sunday & Monday

— Sagués N° 16
— Tel. +34 93 240 5912

― From 45 to 60 Euros

"Coure"

— Unusual kitchen by the chef Albert Ventura with dishes mixing sweet and sour, bitter and sweet, very creative, with big portions per dish.

Closed Sunday & Monday evening

— Pasaje de Marimón N° 20
— Tel. +34 93 200 7532

"Cinc Sentits"

— The owner and chef Jordi Artal, like's to offer various –"tasting menus" with –"small portions" and different prices. – Cosmopolitan, Mediterranean, Italian and Spanish dishes.

Closed Sunday and Monday evening

— Aribau N° 58
— Tel. +34 93 323 94 40

"Manairó"

— New Catalan cuisine, by the chef Jordi Herrera. He cooks the lobsters with a

steam "sounding-lead" or "mini-boring machine." For the grilling of sardines, he uses a "soldering iron" and he has "invented" a "nails-grill" to cook the beef in 40 seconds

Closed Sunday and Monday

— Diputación N° 424
— Tel. +34 93 231 0057

"Saüc"

— An old "barrio" restaurant converted in a high-class restaurant, very fine Mediterranean kitchen, very good service.

Closed Sunday and Monday

— Pasaje Lluis Pellicer N° 12, bajos
— Tel. +34 93 321 0189

More of 60 Euros

"Alkimia"

— The chef, Jordi Vila, re-invents the Catalan recipes, with simplicity and lightness with "avant-garde" techniques. Very good service.

Closed Saturday lunch and Sunday.

[* Michelin]

— Industria N° 79
— Tel. +34 93 207 6115

"Gaig"

— Carles Gaig, the owner and chef, offers classical dishes, with top ingredients, the best are the "cod fritters" – "cannelloni " "pigeon rice & boletus."

Closed Sunday evening.

[One * Michelin]

— Aragó N° 214
— Tel. +34 93 429 1017

"Drolma"

— Restaurant located on the luxury of the "Majestic Hotel," with bourgeois dishes, great wine cellar, and high class service.

Closed Sunday.

[ One * Michelin]

— Paseo de Gracia N° 68-70
— Tel. +34 93 496 7710

"Ca l'Isidre"

— Traditional old house, kitchen with the best products of the market, Catalan rural dishes as the "tomato bread" big selection of desserts & wines.

Closed Saturday & Sunday

— Les Flors N° 12
— Tel. +34 93 441 1139

"Moo"

— Other restaurant located in an hotel, the "Omm Hotel" with "avant-garde" interior design, & "avant-garde" new cuisine. Among the new dishes:

—

* Scallops and Peas with Green Onions, Passion Fruit & Green Tea Jelly
— * Foie Gras with Figs & Pedro Ximenez Sherry Jelly
— * Monkfish with Hazelnuts, Coriander, Lemon & Garnacha
— * Duck Breast with Strawberries & Roses [One * Michelin]

Closed Sunday

— Roselló N° 265
— Tel. +34 445 4000

My Personal "Gourmet Corner Selection

"OVIC"

— Nice "Barrio" restaurant, "No tourists" at the moment, only locals. Opened in April 2004, and becoming a top choice in the city for lunch &diner.

The restaurant is run by a couple:

Laura Seall as Maitre D & reception and Pablo Castillo Marianovich, the chef, a disciple of the famous chefs Albert & Ferran Adria. (El Bulli N° 1 WW Restaurant).

With creative dishes based on the "Catalan-Mediterranean Kitchen."

The restaurant offers one of the "Best Lunch Menus" in town – for only 16.50 Euros or 20.50 Euros with wine & coffee included.

The Lunch Menu changes every day

as per the "market-arrivals." The "a la carte" menu changes every 3 months.

In the evening, you can arrange an

"Special Diner Menu" for a table of six persons at the price of only 39 Euros per person, based on the a la carte menu. I enclose here some of the choices for the "Lunch Menu."

Starters

:
– Oysters from "Galicia Region"
– Pineapple Salad, Goat Cheese & Coffee Vinaigrette
– Vegetables Chop-Suey, & Scampi
– Catalan Salad of Bell Peppers & Salami, Sausage, Black Pudding
– Cream Soup of Carrots, Pumpkin, Spinach's & Black Pudding
– Costa Brava Fish Soup

Main Dishes:


– Pil-Pil Codfish with Vegetables
– Grilled Salmon with Artichokes, Cherry Tomatoes, Green Garlic
– Ragout of Fattened Pullet with Prunes
– Lamb Catalan Style with Spinach
– Pork Brochettes with Tabulé


Desserts:


– Black & White Chocolate Ice Cream with Saffron
– On the Rocks Fruit Salad, Pineapple & Yogurt Cream
– Valenciana; (Orange, Vanilla, Mint & Anis)

On "A la Carte Menu"

Tapas [9 to 15 Euros]


– Cockles from Galicia with Albariňo Wine
– Oysters with Rice Vinegar "Mitsukan"
– Lever Terrine with Mango & Pedro Ximenez Sherry
– "Romescu" Scampi Brochettes
– Rum Flambé Baby Cuttle-Fish & Onions
– Asparagus Tempura & Lemon Mayonnaise

Starters [9.50 to 24 Euros]


– Tomatoes Comfit Salad, Goat Cheese, Sweet-Basil & Watercress
– Sweet-Peas Salad with Ham & Cuttle-Fish
– Tuna Carpaccio, Lime, Olive Oil, Black Pepper & Onion Purée
– Beef Tartar Steak with Calvados
– Artichokes with Scampi & Green Garlic
– Shell-Fish Rice with Artichokes

Fish & Meats [15.50 to 20 Euros]


– Codfish Lips with Chick-Peas, Pork-Ear & Black Pudding
– Fish of the Day, Baked, Leeks Comfit & Garlic Museline
– Fish of the Day, "a la Plancha," Grilled Vegetables & Romescu
– Pickle of Partridge & Lobster
– Beef Tail Civet with Potato Cream

Well, as you can see, some of the dishes are "unusual" and very interesting! – You try it! –You like it!

There is a good wine selection and don't hesitate, try the "House Wines" from the "Montserrat Region" as the "Can'Estruc" in Rosé or Red

The restaurant is bright & cozy with three rooms in a row, on the

middle room you have the round tables for parties of 4 to 6 persons, the best is the last room or mezzanine where you can see all the restaurant, and the best table for two is the N° 12

Since the restaurant is small, reservation is advised,

Laura can take care of your reservation and give you advice for the choice of your menu.

OVIC


Aribau N° 106
Barcelona
Tel. +34 93 451 06 91
Hosts: Laura Seall & Pablo Castillo Marianovich
Chef: Pablo Castillo Marianovich
Closed Sunday & Monday

The other restaurant of my personal selection is:

"Fernandez"

— A completely different type of restaurant, with big premises, "post-modern" design, cosmopolitan, two floors, glass "see-through" kitchen, with moderate prices, very simple home dishes, and good "tapas" selection.

Since the Menu choice is extensive, let me give you some tips of the dishes you most try

.

Tapas [2.50 to 16.90 Euros]


– Anchovies from L'Escala (Costa Brava)
– Artichoke Chips (* a unique specialty)
– Baby Squid Andalusia Style
- Tomato Toast Cake (Catalan Specialty, goes with the Anchovies)


More of 5 Salads for Choice

[6.40 to 9.50]


>

* Baby Sweet Peas, Squid Comfit, Sweet Romesco Salad

Starters [9.40 to 19.95 Euros]
–

"Puy" (France) Lentils, Boletus with Fresh "Foie" Caramel
– Fried Vegetables with "Iberia" Ham Eggs [5.50 to 15.75 Euros]
One of the few restaurants in Barcelona with a big selection ... 6!
– Fried Eggs with Potatoes
– Fried Eggs with Baby Scampi & Garlic
– Poached Eggs with Black Pudding & "Foie"


Fish [15 to 26,50 Euros]


– Fish of the Day, "Plancha" with Fresh Vegetables & Sweet Basil
– Monkfish Comfit with Culinary Herbs & Olive Lees
– Baked Hake with Potatoes, "Pesto" & Honey Vinaigrette<
– "Plancha" Squid

Meats [11 to 22.50 Euros]


– Veal "Plancha" with Banana Purée & Spices
– Beef Sirloin "Plancha" with Vegetables & Porto Sauce
– Hamburger's Assortment, "Casa Fernandez"
– Rack of Lamb with Sweet Potato Purée
– Beef Carpaccio with Mango & Parmesan Cheese

Desserts [3.70 to 7.00 Euros]


You will have more than 11 to select from, the best way is also to see the "Menu of the Day"

Of course don't forget the

"Crema Catalana" (This is the place) or the "House Ice Creams" (* Cheese & Quince Ice Cream)

The Restaurant have a good selection of Teas ... 13!

The "House Wines" is a wise choice

*

All the Dishes & Desserts are prepared to Order

Fernandez


Paseo De Gracia N° 116
Barcelona
Tel. + 34 93 238 4846
(Reservations Advised)
Never Closes
Lunch Service: 1:00 PM – 4:00 PM
Diner Service: 8:30 PM – 12:00 AM

*********************************

After your evening meal, don't forget, Barcelona never sleeps at night! So, also enclosed here are some "interesting" places to start your trip;

(After Midnight, of course).

Bars, Pubs, Discos, "Alternative Places," all these offer something for you, no matter your tastes or pocket money, on the central neighborhoods.

To avoid a "negative entrance" to the places, it is advisable to wear no jeans, no jogging gear ... only shoes, dress "casual chic" and be "cool"

You can start your first drink at

"Sweet Café" (Casanovas N° 75), continue next door "Zeltas" (Casanovas N° 75 – Same Building), with "House Music" — to follow with the visit of one of the most elegant & transgressor places in town with "drag-queens" shows;

"Dietrich"

(Consell de Cent N° 255).

For your last drink visit the Pub

"Sal I Pebre" (Diputació N° 214)

For dancing your night away, visit

"on Friday's," one of the coolest discos in town;

"Salvation" (Ronda de Sant Pere N° 19-21)

or for "Saturday's";

"Arena":


*

Arena Madre (Balmes N° 32), follow with a visit to
* Arena Classic (Diputació N° 233), and close with a visit to
* Arena Dandy &
* Arena VIP (Gran Via N°293), a tolerant place.

Near

"Las Ramblas" you can have the best "absenta" (+ 70°) at the bohemian "Café Marsella" (Sant Pau N° 65), opened "long time ago" by a Frenchman from Marseille with the introduction of the "absenta." The bar was visited in their time by Dali, Picasso, Hemingway & Gaudi.

For a cocktail or beer go to

"Muebles Navarro" (Riera Alta N° 4-6), a relax place. — Before you visit a disco (late) have a drink at "La Bata de Boitiné" on (Robadors N° 23), or "La Concha" (Guardia N° 14) and the "El Cangrejo" (Montserrat N° 9) and at the end, the "Cult" disco "Apolo" (Nou de la Rambla 113)

The last of the choices for your night trip goes to the neighborhood of

"Gracia," to a small bar with cheap drinks "Canigó" (Verdi N° 2), and the Cuban jazz bar the "Elsa Bar" (Torrent de l'Olla N° 78), also the "Café del Sol" — " Woody Bar" & the "MondBar" on the typical Plaça del Sol.

Take a taxi to the disco

"Razzmatazz" (Almogàvers N° 122), with five (5) dance floors for all the tastes;

*

The Pop Bar —
* The Loft —
* Lolita —
* Temple Beat Room —
* The Razz Club, with the best alternative "pop-rock" to end the night.

If you are young, or want to be, student, or want to be: I enclose, finally, the "last list" of addresses for students (graduated) & young people.

(Maybe you will be interested enough to explore them!):
"La Paloma"
(Tigre N° 27); Art Deco dance floor
"Les Enfants"
(De la Guardia N° 3); Since 1963, free entrance
"Moog"
(Arc del Teatre N° 3); Techno music
"Bóveda"
(Pallars N° 97); Free Entrance, Cheap drinks
"Sugarclub"
(World Trade Centre); Coffee Shop, club lounge
"Arc Café"
(Carbassa N° 19); Oriental food, bar, cheap
"Nubaa"
(Paseo de Colon N° 11); Cheap Spanish champagne
"Espit Chupito"
(Aribau N° 70); Choice, of 500 Chupitos
"Mojito Club"
(Roselló N° 217); Cheap Mojitos, Salsa music
"London Bar"
(Nou de la Rambla N° 34); A nice Pub
"El Bosc de les Fades" (Next to Wax Museum); Beers

********************************************

After all of those drinks you need to go to sleep, and Barcelona has a big problem with hotels!

—

They are Expensive!
— Published Prices are never the same!
— Special Prices for Summer, Winter, Weekends & Fairs!
— Rooms are small!
— Service not always at the top!


Barcelona Prices are top, to prices in Tokyo, Beijing, Shanghai or San Francisco, (for a normal room, "very small" you can pay minimum up to 190.00 Euros) and you will have nothing compared

.

The best way, is to search via the Internet and afterwards call them directly to be sure of what you have.

Enclosed is some information about hotels I can recommend, with some price indications,

but remember re-check prices every time, by phone if possible, before you reserve via internet. The best way to reserve is by email, fax & telephone.

For a business travel purpose, three hotels located not far from the Gaudi landmark "La Pedrera":

"Hotel Actual"

(Some rooms are facing the back of La Pedrera)
Roselló N° 238
08008 Barcelona
Tel. + 34 93 552 0550
Fax + 34 93 552 0555
Email info@hotelactual.com
www.hotelactual.com
Rooms from 111.00 to 146.00 Euros — + 7% Vat

A "Boutique" Hotel — Small Rooms – Nice Bathrooms

"Hotel Cotursa Roselló"

(4 "blocs" from La Pedrera)
Roselló N° 191
08036 Barcelona
Tel. + 34 93 238 6355
Fax + 34 93 238 6305
Reservations: + 34 902 021 505
www.cotursahotels.com
Rooms from 120.00 Euros — + 7% Vat

In-room ADSL Internet Free
A very good choice for business
Nice service

"Hotel Prestige Paseo de Gracia"

(3 "blocs" from La Pedrera)
Paseo de Gracia N° 62
08007 Barcelona
Tel. +34 93 272 41 80
Fax + 34 93 272 41 81
Reservations: + 34 972 25 21 00 – or + 34 902 200 414
Email: paseodegracia@prestigehotels.com
www.prestigehotels.com

Rooms from 142.00 Euros — + 7% Vat

(See offers & Promotions on Web)
Located on a 1930's building, minimal & oriental interior design.
Free WIFI in all the hotel, + Internet connection, + Free Parking

For business & leisure purposes, two top hotels, at two blocks from "La Pedrera"

— my personal selection:

"Gallery Hotel"


Roselló N° 249
08008 Barcelona
Tel. +34 93 415 99 11
Fax +34 93 415 91 84
email@galleryhotel.com
www.galleryhotel.com

Rooms from 190.00 Euros — + 7% Vat

Nice design – Internet & Fax connection – Two Telephones Great Suites (260.00 Euros)- 44 m²— Free liquor— hi-fi & two TV High Security Parking

"Hotel Omm"


Roselló N° 265
08008 Barcelona
Tel. + 34 93 445 40 00
Fax + 34 93 445 40 04
Email: reserves@hotelomm.es
www.hotelomm.es

Rooms from 195.00 Euros — Design hotel — Open spaces
Spacious Rooms — Swimming Pool on Terrace — Some rooms with views to Paseo de Gracia — Moo Restaurant (

* Michelin)

And last but not least, two dream hotels, high class, with a

minimum price of 315.00 Euros for a room:

"Gran Hotel La Florida"

(The best view of the city)
Carretera Vallvidrera al Tibidabo N° 83-93
08035 Barcelona
Tel. + 34 93 259 30 00
Fax + 34 93 259 30 01
Email: reserves@hotellaflorida.com

Located on the Mount "Tibidabo," with breathtaking views over the city, a 5-star hotel, swimming pool, health club, etc. etc….

But to go to the city center, you need to have a car, or use the taxi every time. With a nice restaurant, "L'Orangerie."

"Casa Fuster"

(2 blocks north of La Pedrera)
Paseo de Gracia N° 132
08008 Barcelona
Tel. + 34 93 255 30 00
Fax + 34 93 255 30 02
Email: casafuster@hotelescenter.es
www.hotelescenter.es

A 5-star luxury hotel listed as a "Landmark Building."

The "Casa Fuster," whose construction dates back to 1908, represents the last project of the architect D. Luis Domènech i Muntaner, whose buildings are classified as sites of World Heritage. Its unique architecture and high quality interior design, combine to create an exclusive atmosphere.

The hotel has the unique privilege of being the only building to be situated at the highest point of the Paseo de Gracia, giving its guests, the opportunity to enjoy a panoramic view from your room, (if you are lucky to have one), of the entire city.

I hope you have enjoyed this "Barcelona Saga," and going back to my initial introduction – Barcelona is expensive!

In Catalan, they say ...

"Barcelona ès bona si la bossa sona, tant si sona com si no sona, Barcelona sempre ès bona!"

In other words ...

"Barcelona is nice, if the pocket is full, but in any way, with the pocket full or the pocket empty, Barcelona is always nice!"

*********************************

Freddy Santamaria "The smooth Operator"
Paris, France —- June 26, 2006

For EDA Confidential:

www.aycinena.com




Copyright (c) 2006, Freddy Santamaria.
All rights reserved.